OUTSIDE IN
Always remember we are happiest when we are hiking. We thrive in the outdoors, whether that is camping, backpacking, playing sports, or watching wildlife.

The place we have selected to move the house (where our old barn was) has amazing views and we want to take full advantage of the natural setting. We love the diversity of perspective whether one is looking up at the mountains or down into the woods.
We want the feeling to be limitless, to give you a sense of space that feels liberating. We want there to be a seamless transition between the inside and the outside, a natural flow or rhythm in and out. It would be great if we could literally open whole sections to the outside. What we love about our house now is our kids can eat breakfast inside and then naturally spill out to the yard to play as if the outside is part of the inside. In fact, we would love all the spaces, where it is feasible, to be dual oriented with an outside option. We want to take advantage not only of the day view but the night view as the night sky and stars in Portola Valley are amazing.
"Outside in" pertains to sounds as well as sights. Sit on the hill at night and be quiet and you will hear all sorts of sounds. Imagine a parabolic microphone amplifying the sounds of crickets, bullfrogs, running water and feeding it into the audio system.
It also means inviting in the wildlife rather than fighting to keep it out. It was their land first, so rather than put up deer fences we want to let them come in and encourage them to stay in certain areas designed with them in mind. Or imagine waterfowl and nesting birds or any of the other creatures that are native to the area making our site a permanent home or stopping point on their migratory journey. We are sure there is a creative way to manage wildlife which is mutually beneficial and manifests our conservationist values.
Think of nature as art, how do we frame a tree or the view with an architectural feature? Conversely how do we avoid marring a view with an inappropriately placed railing or window frame?
The more we get into this the more we feel like we want the interior to be more natural too. Imagine art from nature, furniture pieces that aren't too pristine, floors that are rustic though not too rough to walk on barefoot and splashes of color to reflect the colors we would find outside.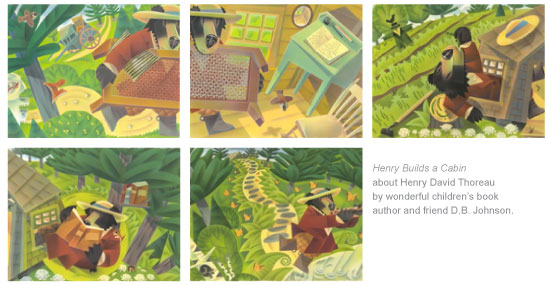 Henry Builds a Cabin, about Henry David Thoreau, by wonderful children's book author and friend D.B. Johnson. http://www.henryhikes.com/builds/builds.html